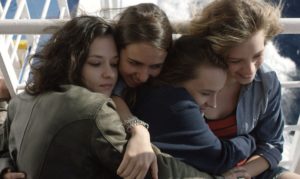 Ferro e Cate sono due ragazzi che crescono in fretta quando lei resta incinta e improvvisamente passano dal ruolo di figli a quello di genitori. Lo racconta Piuma di Roan Johnson (Fin qui tutto bene, I delitti del Bar Lume), protagonisti Luigi Fedele e Blu Yoshimi, uno dei tre film italiani in concorso a Venezia 73, la Mostra del Cinema diretta da Alberto Barbera al via il 31 agosto, dedicata a Michael Cimino e Abbas Kiarostami recentemente scomparsi, con la performer americana Laurie Anderson, alias vedova Reed, in giu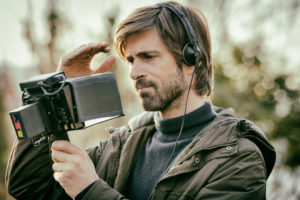 ria accanto a Chiara Mastroianni, Giancarlo De Cataldo e al venezuelano Lorenzo Vigas, regista del miglior film della scorsa edizione, presidente Sam Mendes. La seconda pellicola di casa nostra si intitola Spira Mirabilis ed è un documentario, il secondo, di Massimo D'Anolfi e Martina Parenti, a raccogliere quattro storie sull'immortalità. Il terzo film italiano in concorso è Questi Giorni di Giuseppe Piccioni, con Margherita Buy, Sergio Rubini e Filippo Timi, racconto tutto al femminile sulla vita di quattro giovani universitarie di provincia.
Nutrita la schiera tr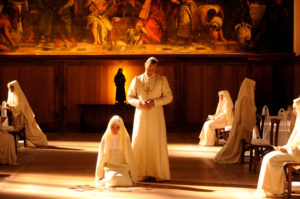 icolore a Venezia 73 anche fuori concorso con Tommaso, opera seconda di Kim Rossi Stuart, che è anche presidente della giuria internazionale del Premio Venezia opera prima Luigi De Laurentiis, con lo stesso autore-regista e con Cristiana Capotondi, Jasmine Trinca e Camilla Diana; Assalto al cielo di Francesco Munzi; Out of war di Benedetta Argentieri, Bruno Chiaravalloti e Claudio Jampaglia; Monte di Amir Naderi; e anche con i primi due episodi di The Young Pope di Paolo Sorrentino come evento speciale e con Liberami di Federico Di Giacomo e Il più grande sogno di Michele Vannucci in Orizzonti.
Tra gli altri film in concorso Les beaux jours d'Aranjuez, 3D d'autore firmato Wim Wenders con Nick Cave; Jackie di Pablo Larrain con il premio Oscar Natalie Portman; Paradise del russo Andrei Konchalovsky; Nocturnal Animals di Tom Ford; Voyage of Time di Terrence Malick con Cate Blanchett e Brad Pitt e la colonna sonora del premio Oscar Ennio Morricone; On the Milky Road (Sulla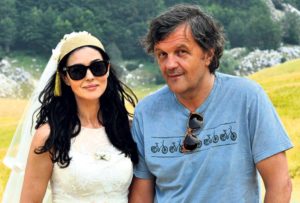 via lattea) ovvero il kolossal di Emir Kusturica con Monica Bellucci; Arrival di Denis Villleneuve, film di fantascienza con Amy Adams e Jeremy Renner.
Apre il musical La La Land di Damien Chazelle con Emma Stone e Ryan Gosling, tra le stelle più attese al Lido, così come Michael Fassbender e Alicia Vikaneder per The Light Between e Jim Carrey per The Bad Batch; chiude il 10 settembre il remake di Antoine Fuqua del western I magnifici sette con, tra gli altri, Denzel Washington, Ethan Hawke, Vincent D'Onofrio, Matt Bomer. Leoni d'oro alla carriera a Jean-Paul Belmondo e al regista polacco Jerzy Skolimowski.