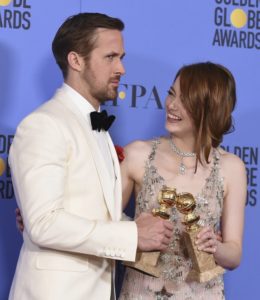 Il musical è vivo e vegeto, pure al cinema. La La Land, il film di Damien Chazelle con Emma Stone e Ryan Gosling che ha apert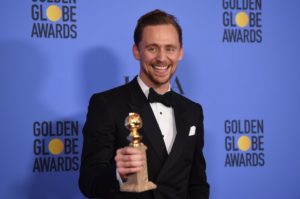 o Venezia 73 e che vedremo nelle nostre sale il 26 gennaio, si porta a casa ben 7 Golden Globe, i premi della stampa estera assegnati nella notte a Hollywood, anticamera degli Oscar per i quali bisognerà attendere il 26 febbraio, in una serata evento condotta dal comico Jimmy Fellon e con omaggi a Carrie Fisher e Debbie Reynolds: come miglior commedia, regista, sceneggiatura, i migliori attori protagonisti (Stone e Gosling), la canzone originale City of Stars e per la miglior colonna sonora di Justin Hurwitz. Moonlight di Barry Jenkins è il miglior film drammatico, Zootropolis il miglior film d'animazione. Premiati tra gli altri anche Isabelle Huppert, miglior attrice drammatica per Elle del regista olandese Paul Verhoeven che è il miglior film straniero, Casey Affleck miglior attore drammatico per Manchester by the Sea e Viola Davis, che in TV vediamo nella serie Le regole del delitto perfetto, per Fences.
Riconoscimenti anche alla TV: The Crown è la miglior serie drammatica e Claire Foy la miglior attrice di una serie drammatica, il miglior attore di miniserie è Tom Hiddleston per The Night Manager, miglior serie è American Crime Story: The people vs O.J. Simpson con Sarah Paulson miglior attrice, miglior serie o film per la tv musical o commedia è Atlanta che in Italia vedremo su Fox dal 19 gennaio.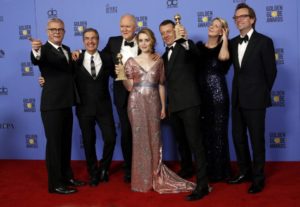 Non solo Fellon ad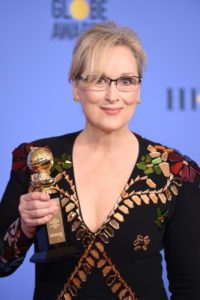 attaccare il neo presidente USA Donald Trump ma anche Meryl Streep, al cinema in Florence (qui la nostra videointervista a Meryl Streep), che ai Golden Globe 2017 ha ricevuto il Cecil B. Demille alla carriera, e certo con meno ironia: l'attrice, che aveva già avuto parole non proprio d'amore per Trump alla Festa del Cinema di Roma, lo ha criticato duramente per la sua presa in giro di un giornalista disabile nel corso della sua campagna elettorale, tornando poi ad appellarsi ai giornalisti affinché tutelino sempre la verità.
Di seguito tutti i premi dei Golden Globe 2017
Miglior film drammatico
Moonlight di Barry Jenkins
Miglior attrice drammatica
Isabelle Huppert per Elle
Miglior attore in un film drammatico
Casey Affleck per Manchester by the Sea
Miglior commedia
La La Land di Damien Chazelle
Miglior attrice in una commedia o musical
Emma Stone per La La Land
Miglior attore non protagonista in un film
Aaron Taylor-Johnson per Animali notturni
Miglior attore in una serie tv musical o commedia
Donald Glover per Atlanta
Miglior regista
Damien Chazelle per La La Land
Miglior serie tv drammatica
The Crown
Miglior attrice in una serie drammatica
Claire Foy per The Crown
Miglior attore in una miniserie
Tom Hiddleston per The Night Manager
Miglior film straniero
Elle di Paul Verhoeven (Francia)
Miglior cartoon
Zootropolis
Miglior sceneggiatura
Damien Chazelle per La La Land
Miglior attore protagonista di una commedia o musical
Ryan Gosling per La La Land
Miglior attrice non protagonista in una serie
Olivia Colman per The Night Manager
Miglior attrice non protagonista in un film
Viola Davis per Fences (Barriere)
Miglior canzone originale
City of Stars di La La Land (Justin Hurwitz, Benj Pasek, Justin Paul)
Miglior colonna sonora
La La Land (Justin Hurwitz)
Miglior attore non protagonista in una serie
Hugh Laurie per The Night Manager
Miglior serie o film per la tv
American Crime Story: The people vs O.J. Simpson
Miglior attrice in una serie o film per la tv
Sarah Paulson per American Crime Story
Miglior serie o film per la tv: musical o commedia
Atlanta
Miglior attrice in una serie: musical o commedia
Tracee Ellis Ross per Black-ish
Miglior attore in una serie drammatica
Billy Bob Thornton per Goliath