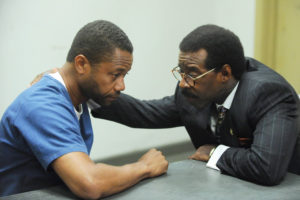 Los Angeles è in rivolta, sullo schermo le immagini del pestaggio di Rodney King, il tassista afroamericano passato tristemente alla storia perché massacrato a calci, quasi ad ammazzarlo, da quattro agenti di polizia che lo avevano fermato per eccesso di velocità il 3 marzo 1991. La notte è devastata da incendi, autobus rivoltati, bidoni lanciati contro le vetrine, esplosioni. Due anni dopo, il 12 giugno 1994, in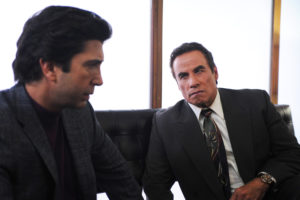 una notte calma, una lunghissima Limousine bianca aspetta con tanto di autista un altro uomo, nero pure lui, con tanti bagagli in mano: sorride e si scusa con l'autista bianco in divisa e cappello per il ritardo, poi via verso l'aeroporto. "Mi scusi signor Simpson – balbetta l'autista mentre lo guarda dallo specchietto retrovisore – continuavo a fissarla prima, è che non ho mai lavorato per una celebrità". Poco dopo un cane con le zampe insanguinate porterà il passante di turno dritto dritto al cadavere massacrato di una donna.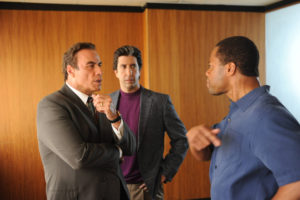 Inizia così American Crime Story: The People v. O.J.Simpson, la nuova serie antologica prodotta da Ryan Murphy come spin off della sua American Horror Story, scritta da Scott Alexander e Larry Karaszewski (Ed Wood, Man On The Moon, Big Eyes) al via stasera, mercoledì 6 aprile, in prima visione esclusiva e in prima serata su FoxCrime, ogni stagione a raccontare un caso di cronaca nera tra i più famosi della storia americana. L'onore dell'esordio va al campione di football O.J. Simpson, 10 episodi a snocciolare, secondo il best-seller dell'avvocato Jeffrey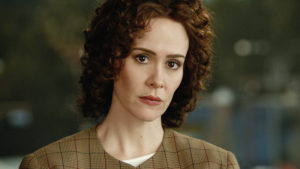 Toobin, firma autorevole del New Yorker, la storia del processo contro O.J. Simpson per l'omicidio dell'ex moglie Nicole Brown e del suo compagno, un vero e proprio circo mediatico che si concluderà nell'ottobre del 1995 con l'assoluzione e che aprì la strada al reality televisivo.
A dare vita al protagonista è il premio Oscar Cuba Gooding Jr., mentre John Travolta, che torna in TV dopo 40 anni, è l'avvocato difensore nonché amico di Simpson, Robert Shapiro; con lui lavora Robert Kardashian in interpretato da David Schwimmer (Friends); dall'altra parte Sarah Paulson (American Horror Story, Carol) che è la rappresentante dell'accusa Marcia Clarks; nel cast anche Courtney B. Vance (Masters of sex), Connie Britton (American Horror Story, Nashville), Nathan Lane (Piume di struzzo), Cheryl Ladd (Charlie's Angels) e Selma Blair nei panni della signora Kardashian.