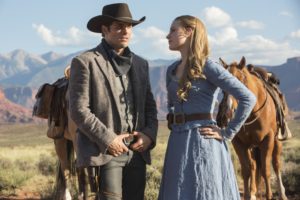 Pazzi per il Far West? Appassionati di duelli al sole e angeli che mangiano fagioli? Non riuscite ad addormentarvi se non con in sottofondo quella meravigl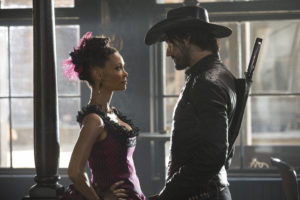 iosa quanto ipnotica colonna sonora di Ennio Morricone per C'era una volta il west di Leone? Non uscite mai senza cappello, stivali in cuoio e cinturone? Avete due alternative: farvi curare da uno bravo o, se avete abbastanza soldi, farvi una vacanza a Westworld, un resort di lusso creato e gestito dal Dottor Robert Ford, dove ricchi e annoiati avventori si divertono a vivere per un po' nel caro, vecchio West, chi come un onesto sceriffo, chi come un cow boy buono e chi come un giustiziere spietato e senza scrupoli. C'è il saloon, ci sono i cavalli e le strade sterrate, ma non tutti si divertono come matti: i robot, ad esempio, che popolano e danno vita all'illusione. Anche perché gli ospiti con loro possono fare tutto ciò che vogliono, nel bene ma anche, e soprattutto, nel male.
Arriva su Sky A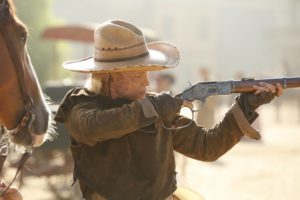 tlantic HD lunedì 3 ottobre alle 3 del mattino in contemporanea con gli Stati Uniti, poi alle 21.15 in lingua originale sottotitolata in it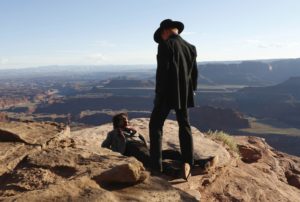 aliano e poi da lunedì 10 ottobre alle 21.15 in italiano Westworld – dove tutto è concesso, nuova serie HBO ispirata all'omonimo film di Michael Crichton del 1973 arrivato da noi come Il mondo dei robot. Scritta e diretta da Jonathan Nolan (Interstellar, The Dark Knight – Il cavaliere oscuro) e Lisa Joy (Pushing Daisies, Burn Notice) e prodotta da J.J. Abrams (Star Trek, Star Wars), Westworld vanta un cast stellare proprio come la spilla dello sceriffo: Anthony Hopkins che è il Dottor Robert Ford, Ed Harris (Pollock, Apollo 13, The Truman Show, The Hours) che dà vita a L'Uomo in Nero, Thandie Newton (Crash, Mission: Impossible II) ovvero la signora Maeve Millay, Evan Rachel Wood (Thirteen, Mildred Pierce) nel ruolo di Dolores Abernathy, la bella figlia del rancher presto disillusa, e James Marsden (X-Men) che fa il nuovo arrivo in città Teddy Flood.