Umbria Jazz 2016: apre Massimo Ranieri, poi Mika e Ezio Bosso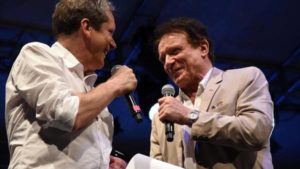 Massimo Ranieri in versione jazz, apre stasera ufficialmente, dopo la ricca anteprima di ieri, Umbria Jazz 2016 con Malia, un progetto firmato da Mauro Pagani che rivede in versione jazz le più celebri canzoni napoletane degli anni Cinquanta e Sessanta, accompagnato da un quintetto all star del panorama italiano: Enrico Rava (tromba e flicorno), Stefano Di Battista (sax alto e sax soprano), Rita Marcotulli (pianoforte), Stefano Bagnoli (batteria) e Riccardo Fioravanti (contrabbasso). Ad esibirsi nel giorno d'apertura anche i torinesi Accordi Disaccordi, il duo americano Tuck & Patti, gli Sticky bones, Allan Harris, Pedro Pablo "Pedrito" Martinez, Sammy Miller & The Congregation e, come ogni anno, la marching band toscana dei Funkoff. Spazio anche al mix tra funk, jazz, bossa nova e Africa di Vincent van Hessen, a Sammy Miller & the Congregation.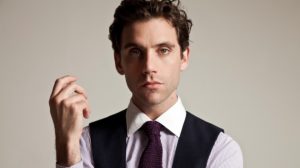 Domani, sabato 9 luglio, l'attesa è invece tutta per Diana Krall, mentre domenica 10 luglio all'arena Santa Giuliana arriva Mika con i suoi più grandi successi a presentare la nuova edizione deluxe No Place Like Heaven: dentro cinque canzoni nuove di zecca come Beautiful Disaster e Centro Di Gravità Permanente di Battiato in versione inglese, ovvero Center Of Gravity.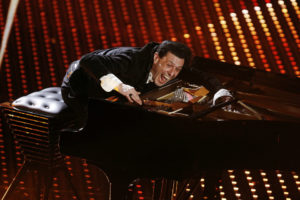 Sempre domenica sera al Teatro Morlacchi c'è Ezio Bosso in una tappa della seconda parte del suo The 12th Room Tour dedicato all'album omonimo.
Altri attesi ospiti della rassegna Pat Metheny e Ron Carter, Buddy Guy, Enrico Rava e Stefano di Battista, Chick Corea e Stefano Bollani, il nuovo quartetto di Roberto Gatto, l'Orchestra del Conservatorio di Perugia diretta da Mario Raja, Fabrizio Bosso e l'omaggio a Duke Ellington, The Golden Circle, Karima e Dado Moroni Trio, Justin Kauflin Trio, Gianluca Petrella, Giovanni Guidi, Claudio Filippini e Mirko Signorile con un progetto da sostegno de L'Aquila, Mauro Ottolini e l'inedito duo Rea e Bahrami con l'omaggio a Bach. Ci sono anche Ray Gelato, Sammy Miller e The Congregation, i Funk Off, Fred Wesley e The New JBs, Allan Harris e il suo quintetto, Pedrido Martinez Group e Sticky Bones.