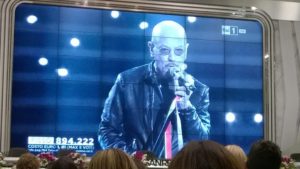 La Ghenea si è cambiata, adesso è in nero con piume nere di struzzo sulle spalle e arriva Enrico Ruggeri con Il primo amore non si scorda mai, banale per niente a dispetto del titolo e ci diamo una bella svegliata. Aldo Giovanni e Giacomo tornano, stavolta eleganti in smoking a celebrare i 25 anni di carriera e la prima volta al Festival, presentano il loro The Best in giro per teatri e il vicesindaco di Sanremo Faraldi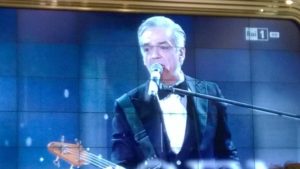 consegna la targa. Pure Garko è in smoking come Conti, del resto, e ricorda (Garko) che da Torino andava in Liguria a fare le vacanze, pensa te. Poi i Bluvertigo con tanto di Morgan, la canzone è bella. Torna la Ferilli-Raffaele che "come hai fatto a fa 'sto figlio –  chiede a Conti – che in televisione fai tutto te…" Poi, silenzio per favore, c'è Sir Elton John, ed ecco Your song e lui che dice "mi piace suonare dal vivo e penso che bisogna essere grati per una carriera lunga come la mia e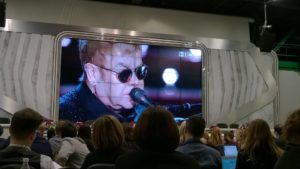 così credibile, soprattutto al pubblico" e "oggi mi diverto tantissimo, non avrei mai pensato di avere un figlio", poi la pelle si accappona con Sorry seems to be the hardest word… e poi anche con Blue wonderful in anteprima per l'Italia. In prima fila due sposini, i Salamoia, lei (Marta) di Cento e lui (Gianluca) di meno, cioè di Trento e quando vede Gabriel  "mi si schiudono le uova" dice Marta.

Altro campione, Rocco Hunt con Wake up, e ci si alza davvero. Torna la Ghenea che parla un sacco di lingue diverse, e poi Irene Fornaciari, di Zucchero figlia, con Blu. E anche in sala stampa si vota… Poi Maitre Gims che trascina ma gli occhiali non li toglie, neanche se glielo chiede Conti che se li vuole provare. Primo collegamento con il Dopofestival con Savino e Gialappa's. Poi Anna Foglietta e Kasia Smutniak a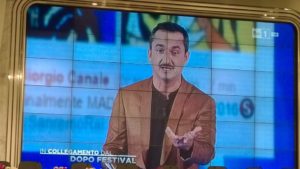 presentare Perfetti sconosciuti di Paolo Genovese. E poi Rocco Tanica che nonostante Elio e Le Storie Tese siano in gara, lui non partecipa e torna in sala stampa per la "sua" rassegna stampa.
Infine ecco la classifica provvisoria: tra i primi sei: Stadio, Enrico Ruggeri, Lorenzo Fragola, Rocco Hunt, Arisa, Caccamo e Iurato, a rischio eliminazione Irene Fornaciari, Noemi, Bluvertigo, Dear Jack. A domani.