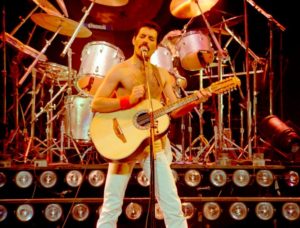 Freddy Mercury, un mito. Uno di quei miti che non si dimenticano e che ogni volta che senti, o meglio risenti, un pezzo dei Queen non ci credi che è morto. Gente così non può morire, uno che canta in quel modo, con uno strumento al posto della voce che va lassù dove nessun altro riesce e in un modo che nessuno ci ha mai neanche provato, uno che si trasforma e che diventa di un bello così bello anche con i denti enormi e il naso affilato, uno che ti dà i brividi a sentirlo e a guardarlo che se non c'era era un peccato e meno male che qualcuno ha pensato a inventarlo, uno così ma dov'è che se ne dovrebbe andare se non su un palco per sempre, in eterno, fino alla fine del mondo, a sparare note e acuti e grida e suoni in un microfono? Invece lo ha fatto, incredibile, nel tardo pomeriggio di quel 24 novembre del 1991 a Londra, nella sua casa di Earls Court,  stroncato da una broncopolmonite che l'Aids non gli permise di combattere. Se ne è andato.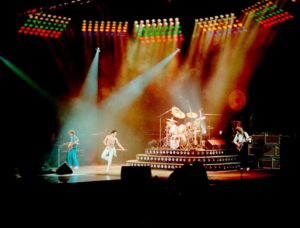 Prima però, quanti concerti… 707 per l'esattezza: il primo a Truro il 27 giugno 1970 per la Croce Rossa, l'ultimo a Knebworth il 9 agosto del 1986, centoventimila spettatori, entrambi in Inghilterra, patria della band. Tra tutti dicono che il migliore sia stato il Queen Rock Montreal, tappa canadese del trionfale Game Tour, dal nome dell'album dell'anno prima che segnò l'esordio nella musica dei Queen del sintetizzatore, registrato e ripreso, per la prima volta nel formato cinematografico 35mm dal regista Saul Swimmer, al Forum di Montreal il 24 novembre del 1981 e che nel 2007 divenne, ovvio, un disco live.
Freddy Mercury aveva 35 anni, ne mancavano esattamente 10 alla sua dipartita, nessuno ci pensava, era in gran forma, più carico, istrionico e artista che mai, un re, con tanto di corona e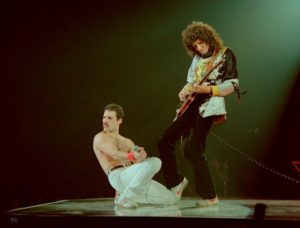 stola di pelliccia. Così come fu tre anni fa per Hungarian Rhapsody: Queen Live In Budapest rivisto al cinema, solo in Italia, da ottantamila fan, anche quel concerto ora sbarca sul grande schermo grazie a Microcinema ma, attenzione, solo per tre giorni, da oggi, lunedì 16 marzo, a mercoledì, in versione restaurata e rimasterizzata in UltraHD e con il suono in surround per sentire meglio la voce di Freddy e la chitarra di Brian May che le fa da appoggio e pure la batteria e gli assoli di Roger Taylor e il basso di John Deacon.
Apertura affidata a We Will Rock You in versione fast, poi Let Me Entertain You, Play The Game e Somebody To Love, Killer Queen, I'm In Love With My Car, Save Me, Love Of My Life, Under Pressure ancora senza David Bowie, Keep Yourself Alive, Crazy Little Thing Called Love, Bohemian Rhapsody che ha quarant'anni ma neanche una ruga o un capello appena ingrigito, Tie Your Mother Down, Another One Bites The Dust, ancora We Will Rock You ma in versione standard e We Are The Champions, per chiudere con God Save The Queen. E pure Freddy Mercury, ovunque sia.