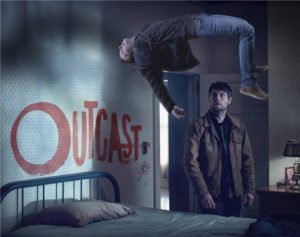 Se ancora non riuscite a dormire da quando avete visto L'Esorcista, e se non ce la fate proprio a fissare uno specchio da quando vostra nonna da piccoli vi ha detto che poteva uscirne il diavolo, vi consigliamo di vedere Outcast, come terapia d'urto, diciamo. Dopo la première romana del 19 aprile con i produttori e gli attori e la consueta parata di vip (qui la nostra videosintesi della serata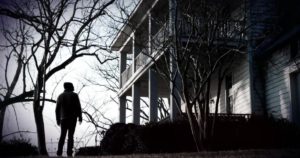 all'Auditorium della Conciliazione), quella online del primo episodio diretto da Adam Wingard (The guest) il 20 maggio su Facebook Live, e il lancio degli 11 murales in altrettante città del mondo a fine maggio, finalmente debutta su Fox, esattamente domani sera, lunedì 6 giugno, come in altri 129 paesi , la nuova serie horror in 10 episodi firmata Robert Kirkman, autore di The Walking Dead, e anch'essa tratta dai suoi fumetti, illustrati da Paul Azaceta. "Scrivere e produrre Oucast è stata un'esperienza incredibile – dice Kirkman – dall'idea originale alla realizzazione del fumetto fino alla serie TV che sarà vista in tutto il mondo. Spero che i fan l'apprezzino ovunque e che ne siano anche un po' spaven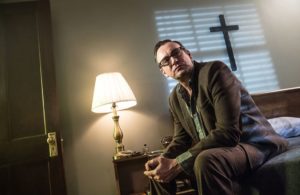 tati".
Come abbiamo già avuto modo di raccontarvi, Outcast è ambientata a Rome, una cittadina immaginaria della Virginia, e tratta di possessioni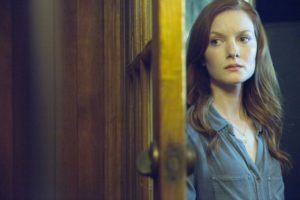 demoniache che si verificano sempre quando nei dintorni c'è Kyle Barnes interpretato da Patrick Fugit, e qui trovate la nostra videointervista a Patrick Fugit. A lui, che scoprirà qualcosa che cambierà per sempre la sua vita e forse pure il destino del mondo, il Diavolo ha già fatto parecchio del male impossessandosi prima della madre e poi della moglie e ora tocca a un bambino della sua città dove lui, guarda caso, è appena tornato. Ad esorcizzare il povero piccolo, che comunque prenderà suo malgrado un sacco di botte, sarà, con l'aiuto dello stesso Kyle, il reverendo Anderson, un predicatore alcolizzato convinto di essere stato mandato da Dio a combattere il male, interpretato da Philip Glenister (Life on Mars, Mad dogs), mentre a sostenere e aiutare sempre Kyle è la sua sorellastra Megan cui dà vita la bella e dolce Wrenn Schmidt (Boardwalk Empire, The Americans, Tyrant, Blu Bloods, Body of Proof), ed ecco le nostre videointerviste a Philip Glenister e a Wrenn Schmidt:

Altri protagonisti di Outcast li avete già conosciuti grazie alle nostre videointerviste, dal già citato Patrick Fugit (Almost famous, Gone girl) a Reg E. Cathey (House of Cards, I fantastici 4, Star Treck: the next generation) che interpreta Chief Giles, il capo della polizia di Rome, e se non l'avete vista vi consigliamo di vederla proprio qui perché è davvero esilarante; e poi ci sono anche Kate Lyn Sheil (House of Cards, The Girlfriend experience) che fa Allison, moglie di Kyle, David Denman (13 Hours), Brent Spiner (Star Trek: Next Generation), Grace Zabriskie (The Killing), Melinda McGraw (The X Files, Mad Men), e Lee Tergesen (The Americans).