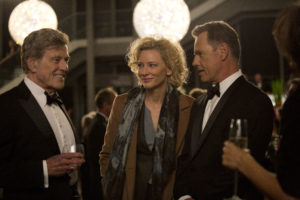 Si chiamò Rathergate uno dei tanti casi di cui l'America non va orgogliosa, uno dei tanti casi in cui chi cerca la verità per farla conoscere al mondo ci rimette di brutto passando dall'accusatore all'accusato, uno dei tanti casi in cui è meglio insabbiarla quella verità scomoda e non proprio celebrativa dell'uomo più potente del mondo. Era il 2004 quando il giornalista e anchorman Dan Rather e la produttrice televisiva della CBS Mary Mapes costruirono uno speciale sul presidente George W. Bush rivelando al mondo che non fece proprio il suo dovere negli anni dal 1964 al 1978 in cui era pilota della Guardia Nazionale dell'Aeronautica del Texas, del resto mancavano solo due mesi alle elezioni presidenziali americane, ci si poteva aspettare altro? Lo racconta Truth, opera prima dello sceneggiatore James Vanderbilt ispirata al libro scritto dalla stessa Mapes e intitolato Truth and Duty: The Press, the President and the Privilege of Power, con i premi Oscar Cate Blanchett e Robert Redford, film d'apertura della Festa del cinema di Roma al via all'Auditorium Parco della Musica e nelle nostre il 5 gennaio prossimo.
Altri film di questa prima giornata, il keniota Watatu di Nick Reding nella sezione riflessi e il corto Mediterraneo la nostra frontiera liquida di Gabriella Guido e Rosalba Ferba. Ospiti attesi nella giornata d'esordio Joel Coen e Frances McDormand, marito e moglie, regista e attrice che vanno di pari passo nella vita quanto nel lavoro. Lei invece è una figlia, si chiama Isabella Rossellini e in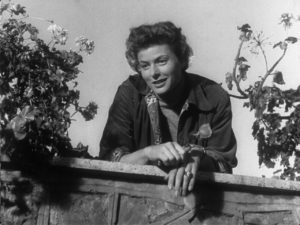 omaggio alla madre Ingrid Bergman nel centenario della nascita, oggi presenta l'episodio interpretato dall'attrice svedese e diretto da suo padre Roberto Rossellini, del film collettivo Siamo donne, ideato nel 1953 da Cesare Zavattini come "un atto di sincerità e di umiltà" con cui quattro grandi attrici, la Bergman, Anna Magnani diretta da Luchino Visconti, Isa Miranda da Luigi Zampa e Alida Valli da Gianni Franciolini, intendevano "testimoniare la loro presenza nel mondo di oggi e uscire dal mito nel quale l'immaginazione popolare così spesso le pone, per riacquistare davanti al pubblico la loro vera dimensione umana", e qui presentato in anteprima nella versione italiana e restaurata da CSC, Cineteca Nazionale, Ripley's Film e Viggo. Isabella Rossellini presenta anche il film di Jody Shapiro di cui invece è lei stessa interprete e autrice: Isabella Rossellini's Green Porno Live!. Due le retrospettive al via, una dedicata alla Pixar l'altra ad Antonio Pietrangeli.
Al via anche la prima edizione di MIA, il Mercato Internazionale dell'Audivisivo, diretta da Lucia Milazzotto, con proiezioni, dibattiti, conferenze, workshop, incontri di co-produzione internazionale su cinema, serie Tv, documentari e pure videogiochi.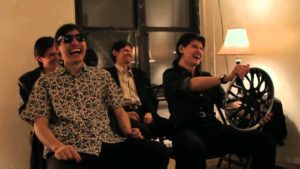 Primo giorno anche per la XIII edizione di Alice nella città, sezione autonoma ma parallela della Festa del Cinema di Roma dedicata alle giovani generazioni e alle famiglie, che propone 13 film per il Concorso Young Adult, 3 fuori gara e 4 eventi speciali e si espande anche in altre zone della città: oltre che nell'Auditorium sono previste proiezioni anche al cinema Aquila e Avorio. Oggi tocca a The Wolfpack di Crystal Moselle, nelle nostre sale il 22 ottobre distribuito da Wanted, The Big Day di Pascal Plisson e Street Opera di Haider Rashid. Di seguito tutti i film di Alice nella città:
CONCORSO
THE BIG DAY / LE GRAND JOUR di Pascal Plisson, Francia, 2015, 86'
Cast: Nidhi Jha, Albert Gonzalez Monteagudo, Delgermurun (Deegii) Batjargal, Tom Ssekabira
In collaborazione con Festa del Cinema di Roma
CAMPO GRANDE di Sandra Kogut, Brasile, Francia, 2015, 109'
Cast: Carla Ribas, Julia Bernat, Rayane do Amaral, Ygor Manoel
In collaborazione con Festa del Cinema di Roma
A CHILDHOOD / UNE ENFANCE di Philippe Claudel, Francia, 2015, 100'
Cast:Alexi Mathieu, Angelica Sarre, Pierre Deladonchamps, Jules Gauzelin, Patrick D'assumçao
DEPARTURE di Andrew Steggall, Francia, 2015, 109'
Cast: Juliet Stevenson, Alex Lawther, Phénix Brossard, Niamh Cusack, Patrice Juiff, Finbar Lynch
FOUR KINGS / VIER KONIGE di Theresa von Eltz, Germania, 2015, 98'
Cast: Paula Beer, Jella Haase, Moritz Leu, Jannis Niew
GRANDMA di Paul Weitz, Brasile, Stati Uniti, 2015, 80'
Cast: Lily Tomlin, Julia Garner, Marcia Gay Harden, Judy Greer, Laverne Cox
JACK OF THE RED HEARTS di Janet Grillo, Stati Uniti, 2015, 100'
Cast: AnnaSophia Robb, Famke Janssen, Taylor Richardson, Scott Cohen, Israel Broussard
MICROBE & GASOLINE / MICROBE ET GASOIL di Michel Gondry, Francia, 2015, 103'
Cast: Ange Dargent, Théophile Baquet, Diane Besnier, Audrey Tautou
MUSTANG di Deniz Gamze Erguven, Francia, Germania, Turchia, Qatar, 2015, 94'
Cast: Günes Sensoy, Doga Zeynep Doguslu, Tugba Sunguroglu, Elit Iscan, Ilayda Akdogan, Ayberk Pekcan
THE NEW CLASSMATE di Ashwiny Iyer Tiwari, India, 2015, 96'
Cast: Swara Bhaskar, Ratna Pathak Shah, Pankaj Tripathi, Riya Shukla, Neha Prajapati, Prashant Tiwari, Vishal Nath
RETURNING HOME /Å VANDE TILBAKE di Henrik Martin Dahlsbakken, Norvegia, 2015, 75'
Cast: Åsmund Høeg, Fredrik Grøndahl, Ingar Helge Gimle, Lia Boysen, Isabel Christine Andreasen
SCOUT di Laurie Weltz, Stati Uniti, 2015, 109'
Cast: India Ennenga, James Frecheville, Onata
Aprile, Jane Seymour, Nikki Reed, Tim Guinee, Shelley Hennig, Danny
Glover, Ellen Burstyn
VETRO'S CHILD / IL BAMBINO DI VETRO di Federico Cruciani, Italia, 2015,80'
Cast: Paolo Briguglia, Chiara Muscato, Vincenzo Ragusa, Claudio Collovà, Fabrizio Romano
Maziar Firouzi
FUORI CONCORSO
BELLE & SEBASTIAN, THE ADVENTURE CONTINUES / BELLE ET SÈBASTIEN, L'AVENTURE CONTINUE di Christian Duguay, Francia, 2015, 97'
Cast: Félix Bossuet, Tchéky Karyo, Margaux Chatelier
IQBAL: TALE OF FEARLESS CHILD / IQBAL: BAMBINI SENZA PAURAdi Michel Fuzellier e Babak Payami, Italia, Francia 2015, 85'
In collaborazione con Festa del Cinema di Roma
THE LITTLE PRINCE / LE PETIT PRINCE di Mark Osborne, Francia, 2015,108'
Cast (voci): Toni Servillo, Paola Cortellesi,
Stefano Accorsi, Micaela Ramazzotti, Alessandro Gassmann, Giuseppe
Battiston, Pif, Alessandro Siani
PANORAMA
ALIAS MARIA di José Luis Rugeles Gracia, Colombia, Argentina, Francia, 2015, 92'
Cast: Karen Torres, Carlos Clavijo, Erik Ruiz, Anderson Gómez
THE BOY AND THE BEAST / BAKEMONO NO KO di Mamoru Hosoda, Giappone, 2015, 119'
CLOSET MONSTER di Stephen Dunn, Canada, 2015, 90'
Cast: Connor Jessup, Aaron Abrams, Joanne Kelly, Aliocha Schneider, Jack Fulton, Sofia Banzhaf, Mary Walsh, Isabella Rossellini
LONG WAY NORTH / TOUT EN HAUT DU MONDE di Rémi Chayé, Danimarca, 2015, 81'
Cast (voci): Christa Théret, Audrey Sablé, Rémi Caillebot, Thomas Sagols, Feodor Atkine
MONITOR di Alessio Lauria, Italia, 2015, 78'
Cast: Michele Alhaique, Valeria Bilello, Riccardo De Filippis, Claudio Gioè, Ettore Nicoletti
Caterina E. Capodilista
THE NEW KID / LE NOUVEAU di Rudi Rosenberg, Francia, 2015, 80'
Cast: Raphael Ghrenassia, Johanna Lindstedt, Max Boublil, Géraldine Martineau, Joshua Raccahanna
RAGING ROSE / CRACHE COEUR di Julia Kowalski, Francia, Polonia, 2015, 80'
Cast: Liv Henneguier, Yoann Zimmer, Andrzej Chyra, Artur Steranko, Léa Mesni
SLEEPING GIANT di Andrew Cividino, Canada, 2015,89'
Cast: Jackson Martin, Reece Moffett, Nick Serino,
David Disher, Erika Brodzky, Rita Serino, Katelyn McKerracher, Kyle
Bertrand, Lorraine Philp
STREET OPERA di Haider Rashid, Italia, 2015,
Cast: Clementino, Gué Pequeno, Tormento, Danno, Elio Germano
THE WOLFPACK – IL BRANCO / THE WOLFPACK di Crystal Moselle, Usa, 2015, 89'
Cast: Mukunda Angulo, Govinda Angulo, Narayna Angulo, Bagahvan Angulo, Krisna Angulo, Jagadesh Angulo, Susanne Angulo, Oscar Angulo
EVENTI SPECIALI
ALICE IN THE CITIES /ALICE IN DEN STADTENdi Wim Wenders, Germania, 1974, 113'
Cast: Rüdiger Vogler, Yella Rottländer, Lisa Kreuzer
GAME THERAPY di Ryan Travis, Italia, 2015, 97'
Cast: Favij, Federico Clapis, Leonardo Decarli, Zoda
PAN 3D / PAN – VIAGGIO SULL'ISOLA CHE NON C'È di Joe Wright, Usa, 2015
Cast: Hugh Jackman,Garrett Hedlund, Rooney Mara, Levi Miller, Amanda Seyfried
THE ZERO HUNGER CHALLENGE di Costanza Quatriglio, Italia, 2015, 9'
Cast: Leone Alazar Di Biagio, Carolina Niranjan Singh, Masomeh Zamyndoost, Meriam Faidi, Younis Hashem, Carl William Papi