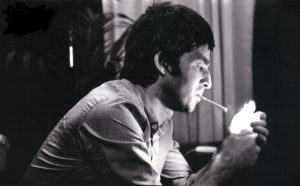 "Ci sono tutte le mie passioni musicali, dai T.Rex ai Queens of the Stone Age, credo sia un lavoro molto intenso". Parola di Noel Gallagher a tre giorni dall'uscita italiana, lunedì 2 marzo, di Chasing Yesterday, il nuovo, secondo disco dei suoi High Flying Birds anticipato lo scorso novembre dal singolo In the heat of the moment uscito in digitale e in una versione limitata in vinile. E il 3 marzo i Noel Gallagher's High Flying Birds partiranno da Belfast con il loro nuovo tour che li porterà in Italia il 14 marzo al Fabrique di Milano.

Chasing Yesterday è un album nel sound e nello spirito molto vicino a quello del debutto degli Oasis, Definetely Maybe, a detta dell'amico e da sempre fido collaboratore Mark Coyle che ha seguito tutte le sessioni di registrazioni a New York. "È assolutamente grandioso – garantisce Coyle – questo ragazzo viene da un altro pianeta e anche i fan non riusciranno a credere quanto è incredibile". Gallagher tra l'altro vive un momento oltremodo produttivo: le dieci tracce dell'album sono il risultato di una sorta di scrematura tra ben 60 canzoni scritte.
L'album degli High Flying Birds è disponibile da oggi in esclusiva streaming su TIMmusic con un'edizione deluxe: ben quattro brani in più rispetto a quella standard: Do the Damage, Revolution Song, Freaky Teeth e un remix del singolo uscito lo scorso novembre In the Heat of the Moment.
Questa la tracklist completa di Chasing Yesterday – versione deluxe:
Riverman
In the Heat of the Moment
The Girl with X-Ray Eyes
Lock All the Doors
The Dying of the Light
The Right Stuff
While the Song Remains the Same
The Mexican
You Know We Can't Go Back
Ballad of the Mighty I
Do the Damage
Revolution Song
Freaky Teeth
In the Heat of the Moment (Toydrum Remix)