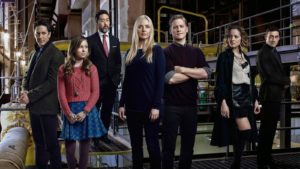 Mettete insieme The Americans e Homeland e avrete un'idea di Allegiance, spy-serie della NBC tratta, appunto da un serial israeliano – un thriller psicologico intitolato Ta Gordin e creato da Ron Leshem –  girato tra Philadelphia e New York, da stasera in prima TV su Premium Stories.
C'è una cellula dormiente russa camuffata da famiglia americana, gli O'Connor: Katya (Hope Davis di Wayward Pines) è stata reclutata dal padre, ufficiale del KGB, che aveva solo 17 anni; è stata lei ad assoldare Mark (Scott Cohen), insospettabile un uomo d'affari a stelle e strisce; Natalie (Margarita Levieva di Revenge) lavora da anni presso il SVR (Sluzhba Vneshney Rrazvedki), il servizio segreto russo; Alex (Gavin Stenhouse) è invece un analista della CIA e non sa nulla di tutto ciò. Sarà Alex a cercare di fermare il terrorista mercenario Oskar Christoph (Giancarlo Esposito) assoldato dal governo russo per un attentato contro una struttura americana.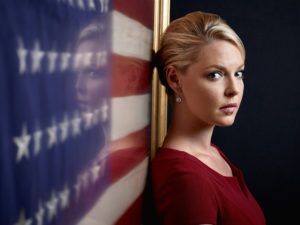 Dopo l'esordio di Allegiance ecco quello di State of Affairs, sempre da lunedì 7 settembre in prima assoluta su Premium Stories, ideata da Alexi Hawley (Castle, The Following, Body of Proof) dove ritroviamo Katherine Heigl, la Izzy di Grey's Anatomy, qui protagonista e anche produttore esecutivo della serie che, tanto per cambiare, la vede nel ruolo di un'analista della CIA, Charleston "Charlie" Tucker, con il compito di gestire le crisi internazionali che coinvolgono il Presidente degli Stati Uniti Constance Payton (Alfre Woodard), peraltro suo ex suocero essendo stata la fidanzata del figlio prima che questi venisse ammazzato in un attacco terroristico. Lei stessa è sopravvissuta a quell'attentato ed è chiaro che tra i suoi obiettivi principali ci sia quello di scoprire e punire i responsabili, e nel cercare di farlo si imbatterà in un mistero terrificante.